---
You don't have to attend the Willamette Valley Ag Expo to take advantage of the savings! Save up to 20% on pressure washers, accessories, waste oil heaters and radiant heaters.
Time is limited. Reach out to us by Friday, Nov. 19th. Purchase by the end of the month.
20% Off Pressure Washers
---
Wash away the grime with a professional-grade pressure washer from the toughest brands available. All our pressure washers are backed by a limited 7 year warranty and we service any equipment we sell – so you can be sure it powers through the dirt for years to come.
This is just a small sample of available washers! Hot or cold; oil, gas, electric, or diesel; belt or direct drive; 1,000  to 5,000 psi; wheeled, mounted, or fixed… we carry a top quality machine that can meet your pressure washing needs. Contact your Carson rep or tell us more in the form to the right and we'll find the right match for you.
Hotsy 555SS
The sporty 555SS, with its stainless steel coil skin, is our most popular entry level hot water model—compact, evenly balanced, easy to maneuver, and engineered with the operator in mind.
Hotsy Belt Drive Series
The Belt-Drive Gas Engine Series Hot Water Pressure Washers are available in 9, 13 or 16 HP and 3000 to 3500 psi. The most versatile of Hotsy hot water models, the chassis is available with different wheel kits plus trailer and skid mount options. Talk about a faster, easier clean!
Hotsy HD Series
Modular cold water pressure washers with a corrosive-resistant aluminum frame.  Hotsy HD models are powered by Honda GX engines with belt or direct drive options. 2700 to 4100 PSI available. These are powerful machines.
Alkota 5355J
The 5355J hot water pressure washer is ideal for trailer, truck or van mount. A welded frame and solid channel engine/pump mount reduces vibration and wear. 3500 psi and 9.5 gallon gas tank, no electricity is required for a powerful flow that lasts hours.
15% Off Heaters
---
Winter is just around the corner. Stay warm no matter the temperature with Carson heating solutions whether you are in the shop, barn, or out in the elements.
Sunfire: 150 Radiant Heater
Efficient Sunfire portable radiant heaters are ruggedly constructed with a steel frame and can warm even in exposed environments by heating objects and not the air.
Clean Burn CB-140
Clean Burn furnaces create FREE HEAT by using your waste oil as a fuel source. The CB-140 is ideal for shops and garages. There are many more models to choose from!
15% Off In-Stock Detergents & Disinfectants
---
Clean, de-grease, sanitize, we have something to make the job a lot easier, including EPA-approved options for jobs in sensitive areas. These are just a few of our most popular options. There's lots more to choose from.
Vital Oxide Disinfectant
Effective against Covid-19, this hospital-grade disinfectant is gentle enough for contact with skin and animals and EPA-approved for no-rinse contact with food.
One Step with Heat (Carwash)
Perfect for fleets, this one-step carwash is applied with your pressure washer & a foam cannon.
K-90 Degreaser
Carson's proprietary formula cuts through grease build up on engines and equipment.
15% Off Tank & Barrel Cleaning
---
Carson's solutions for the beverage industry dramatically cuts water for tank, barrel, and bottle cleaning and sanitization. We've helped many wineries achieve LIVE certification with our Optima steamers & specialty barrel-cleaning attachments.
Optima Steamers
Optima Steam Generators clean wine and beer barrels, beverae tanks and bottling equipment fast. This revolutionary steamer gets into places that hot water cannot and reaches temperatures over 200° F, sanitizing chemical-free with minimal water.
Specialty Jets & Wands
Gamajet technology uses a rotary impingement system that projects powerful rotary jets to 360° clean any size tank. From bottling line to barrel to porta potty, Gamajet has a portable option to give your dirty job an industrial clean.  Attaches to a pressure washer.
15% Off Accessories
---
The less time you spend cleaning up, the more time there is to focus on the income-driving part of your business. We carry a range of specialty pressure washer attachments to get through the cleaning tasks as quickly as possible.
Foam Cannon
The foam cannon attachment makes washing your fleet and equipment a breeze. Simply fill with your favorite detergent, set proper ratio amount, and spray on using your Carson pressure washer.
Undercarriage Cleaner
Hotsy's Undercarriage Cleaner gets to the most vulnerable part of your vehicle that's often overlooked. A must-have for fleets operating on roads with corrosive de-icers.
Hoses & Wands
Carson carries a range of other pressure washer accessories, including, but not limited to, hoses and wands.
Delo Manufacturer Rebate on Advanced Coolants
---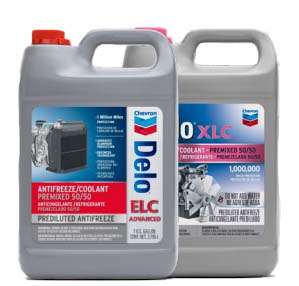 Just in time for cold weather, Delo is offering a rebate of $1.00 per gallon on their Advanced coolants/antifreeze on orders above 110 gallons. Qualifying products include XLC and ELC Advance coolants and mixed orders qualify. More details here.
Propane is Now Available in Eugene!
---
Carson Propane is now serving the greater Eugene area! You can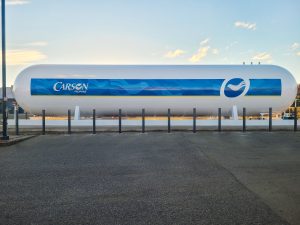 now get Carson Propane in bulk from Eugene to the California border. With Carson Propane, there's no price creep and hidden charges found at most major retailers. There are no delivery or hazmat fees. Our prices are competitive. Interested in learning more? Let us know in the inquiry form above.
At Our Always Great Prices
---
That's not all. Carson services have been helping businesses operate since 1938. We're still family-owned right here in Oregon with options for direct-to-you delivery or pick-up at one of our eleven regional branches.
---
HDT, PCMO, marine, food-grade, industrial greases, or VPG compliant — we carry the most recognized brands in the industry for a range of budgets.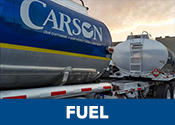 Carson is the Northwest leader in bulk fuels. Our fleet of over 90 trucks delivers to most of Oregon and South Washington.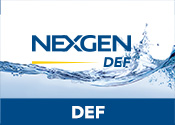 Carson partners with NEXGEN DEF, the northwest's largest manufacturer of DEF. Ask us about temp-controlled tanks for on-site storage.
Get a Quote
---
We may be old-fashioned, but we believe the best way to serve your business is to know it well. Contact your Carson representative directly or start the conversation by answering a few short questions. And the best representative for your needs will respond shortly.