Hotsy Hot Water Pressure Washers:
Electric Pressure Washer Series – HWE Series – Electric Heated, Electric Powered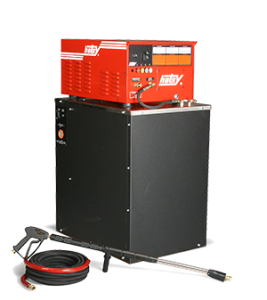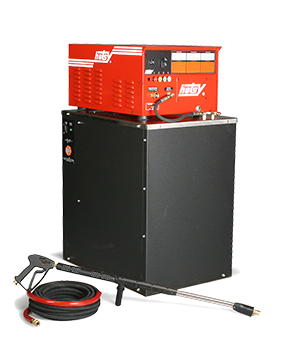 Description: The HWE Series is electric powered and electric heated, making it ideal for indoor use. It's a quiet machine with no fumes, making it ideal for food service and in-plant cleaning. Water is heated in a stainless steel heating coil, immersed in a tank of water solution, allowing for instant hot water once you pull the trigger. The heating elements do not come in contact with the pressurized water, which results in less maintenance and minimizes scale build up. The HWE features a Baldor motor, which drives a belt-drive Hotsy Triplex pump, with 7-year warranty, and an insulated variable pressure wand with ETL certification.
Specifications: 
All Electric
3.5 – 4 GPM
2000 – 3000 PSI
6.2 – 7.5 HP
460V/3PH
Belt-Drive Hotsy® Triplex Pump
Many options to make industrial cleaning faster and easier!