Hotsy Hot Water Pressure Washers:
Natural Gas Heated and Electric Powered Series: 1800 Series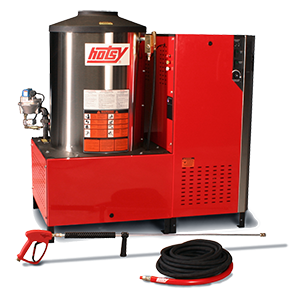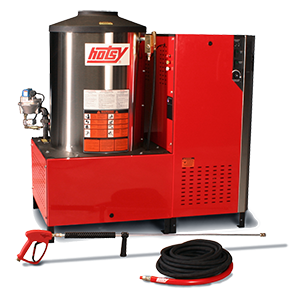 Description: The 1800 Series Hot Water Pressure Washer is a compact, affordable solution for cleaning with hot water indoors. The 7 stationary models are electric-driven and natural gas, oil or optional LP gas-heated, using Hotsy's high-efficiency vertical hot water coil. The sleek cabinet panels are easily removed to provide access to the Smart Relay control panel, allowing the user to set the thermostat to the desired temperature, as well as set the run time, auto start/stop and time delay shut down functions. This heavy-duty cleaning machine is ideal for use in manufacturing or even food processing facilities where hot water is needed for cleaning machinery and equipment indoors. All models are certified to the rigid UL-1776 safety standards.
Specifications:
NG-Fired
6 GPM
2500 – 3000 PSI
10 – 15 HP
230V/1PH, 208V/3PH, 230V/3PH, 460V/3PH, 575V/3PH
Belt-Drive Hotsy® Triplex Pump
Smart Relay Control System
Many options to make industrial cleaning faster and easier!