Hotsy Hot Water Pressure Washers:
Fuel Oil Heated and Electric Powered Series: 800 Series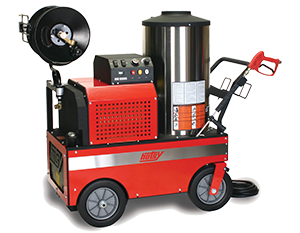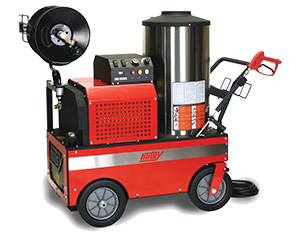 Description: The Hotsy 800 Series is a mobile pressure washer powered by an electric motor, using heating oil to heat the burner. This series is powered by the Hotsy belt drive triplex pump. the 800 Series is designed with 12" rubber tires and beefy casters, which makes it easier to move than other heavy-duty mobile models. Uses the reliable Hotsy Crossfire burner, and comes with Hotsy's industry leading warranties.
Specifications:
Oil-Fired
4 – 5 GPM
2000 – 3000 PSI
5 – 10 HP
208V/1PH, 230V/1PH, 208V/3PH, 230V/3PH, 460V/3PH, 575V/3PH
Belt-Drive Hotsy® Triplex Pump
Many options to make industrial cleaning faster and easier!