Hotsy Radiant Heaters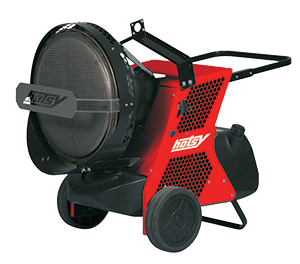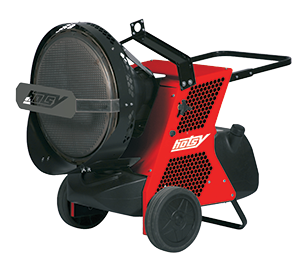 Hotsy's HeatMizer Series provides reliable radiant heat directly without moving air.
When it's cold outside, radiant heaters are there to warm your shop.  The HeatMizer Series is Hotsy's line of portable radiant heaters with clean combustion and 99.9% efficiency. Using diesel #1, diesel #2, kerosene or jet fuel, the HeatMizers innovation lies in the elimination of the refractory material cone that surrounds the combustion chamber on competitive heaters. The direct heat flow radiates instead of blowing air, so there's no air movement.
The HeatMizer features a metallic forced air insulation pocket between the combustion chamber and the external protection cone. The cooling air is blown through the pocket by the burner fan, which overcomes the fragility and brittleness of ceramic cones. This keeps the frame cool to the touch.
We have two infrared heater models – the HeatMizer 115 and the HeatMizer 155. Features include:
Uses 120V / 1 Phase power supply
Low noise level / Construction & Ag approved
Up to a 16 hour run time
Up to a 17.2 gallon tank capacity
Directional cone locking mechanism
Extendable protective floor shield
CSA Approved