Flame King Refillable
Cylinders & Kit
If you are an outdoor enthusiast, handy-person or RV-owner, you likely use pre-filled, 1lb propane cylinders to power heaters, stoves, lamps, welders and other equipment. Since Oregon requires empty canisters be delivered to certified disposal and drop-off sites, a pile of empty 1-time-use canisters probably collect somewhere on your property as well.
Save Money & Time with Refillable Propane Cylinders
Roughly 80% of the cost in the production of a disposable 1lb propane cylinder is in the tank itself. To reduce costs, some users have crafted DIY systems to refill thin-walled canisters designed for only 1-time use. This is very dangerous!
At Carson, we carry Flame King, the only refillable 1-lb propane tank certified by the US Department of Transportation (DOT).  With a Flame King Adapter Kit, you can refill your Flame King 1lb canisters at home using a typical 20lb tank used for your barbecue. When switching to a Flame King refill system, you can recoup your costs in just a few uses — even faster if you refill additional Flame King cylinders.
Over the lifetime of your Flame King Cylinder (10 years), that translates to a lot of money saved. It also means no more last-minute trips to the store. And it means no more piles of empty canisters waiting to be hauled to a HAZMAT-approved collection site.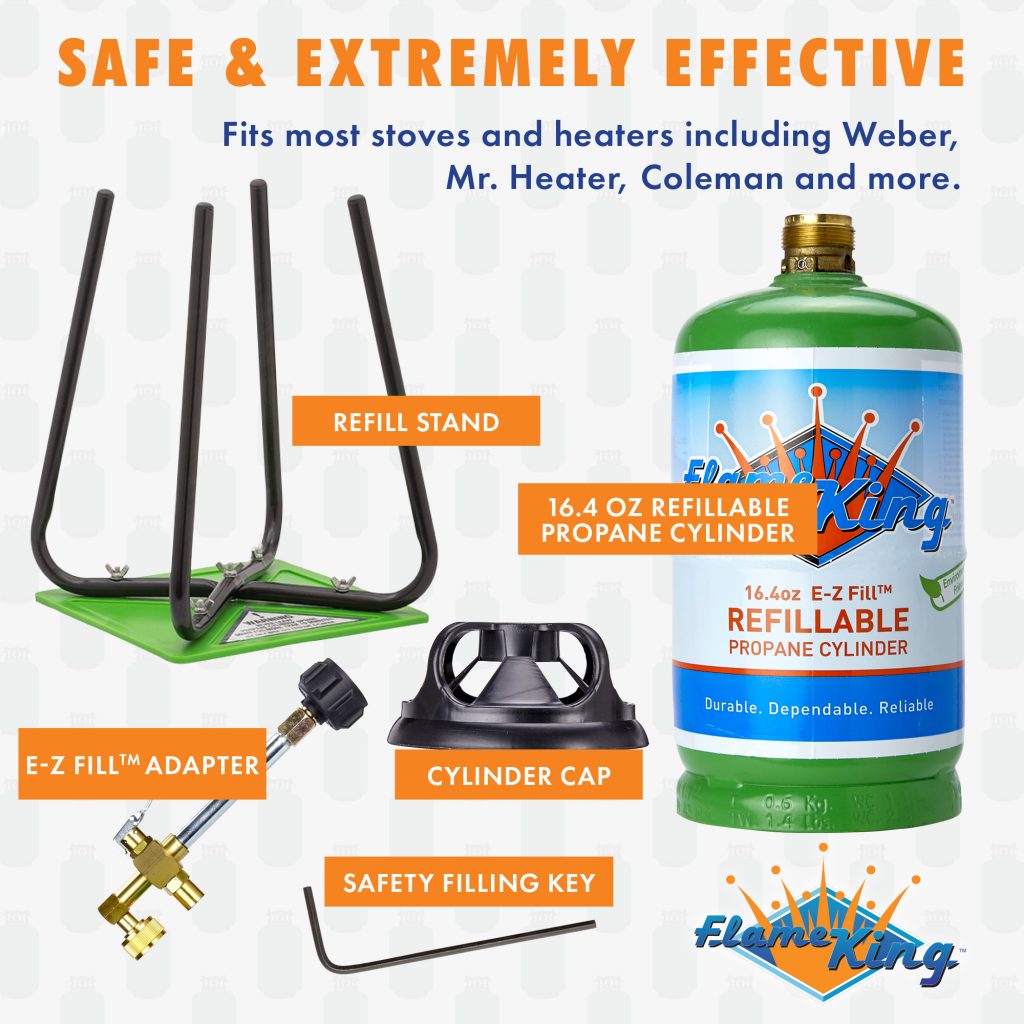 Less Waste is Better for the Environment
According to Waste Management Magazine,  Yosemite park officials collected 23,000 canisters in 2014 alone. Multiply that times all the other parks and campgrounds. Then add on all the other  non-camping uses, and we're looking at about 40 million canisters purchased per year.
And there are hidden costs as well. Waste Management Magazine also reports that the cost of properly disposing of a 1-time-use cylinder can be more expensive than the original purchase.
Flame King Refillable Propane Cylinders last 10 years. That keeps a decade of disposable canisters out of landfills!
Flame King Kit Contents
1-16.4 oz refillable propane cylinder (empty), cylinder cap, stand, E-Z Fill Adapter, safety filling key
In addition to Flame King, Carson Propane offers a range of other propane-fueled camp gear, outdoor cooking equipment, and portable hot water heaters. Interested in learning more? Email us or call Carson Propane at 541.956.1863 (option 3).