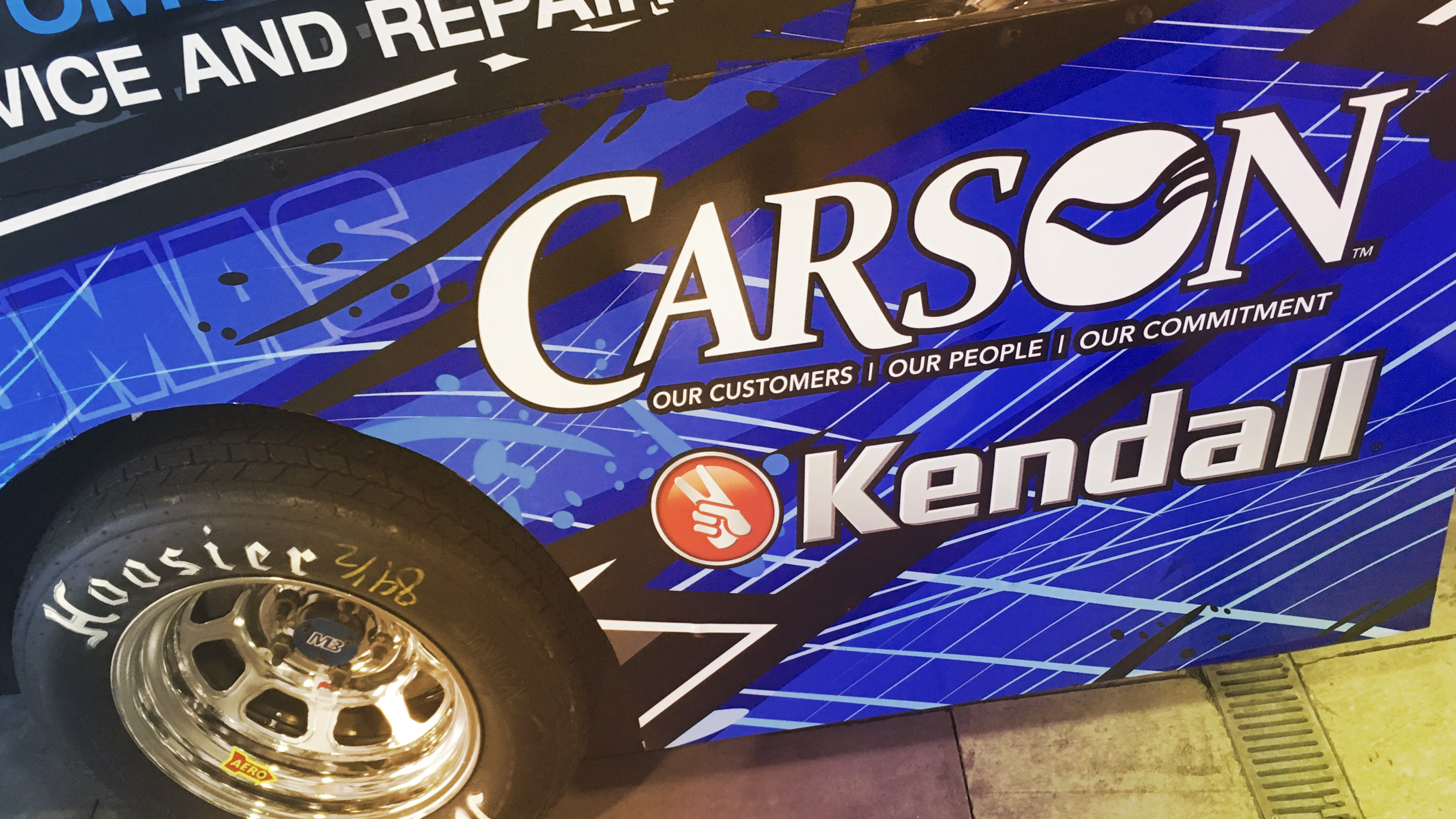 Daysen Thomas' dad used to race cars in Alaska when he was a young man. After moving to Oregon and starting a family, he used to take Daysen out to the Cottage Grove Speedway every weekend for some father-son bonding time. One weekend at the track, there was a car for sale. "There was this cage car," recalls Daysen, "and my dad asked me if I might want it for my 15th birthday. It turned out to be for my birthday, and for Christmas, but I said yes." Daysen and his dad started on the dirt track circuit with that cage car, an open-style framed car that kids as young as four can begin racing. They learned the culture together, eventually buying a second-hand "winged sprint" – one of the fastest cars to run on a dirt track. Daysen, now 19 years old, still races with the help of his dad. Both men, mechanics for Goshen Forest Products, have been working on the sprint for about seven months. Family connections are common, "In Oregon, racing happens by association. Usually, people get involved because there is a history of it with someone in their family and they grew up around it," explains Daysen.
Bob Thomas raced for about 20 years before taking some time off to build his business, Bob Thomas Automotive. Now he's back at it with his son as his pit crew. "In addition to my son, several other family members help, and the rest come out to watch," said Bob. My 18-month-old grandson came, and he just loved it. He was enthralled with all the noise and the spectacle. Racing goes through the generations. Kids get hooked on it because it's a blast. There's an element of adventure and risk. But, there's nothing like going fast." In the family spirit, Bob named is car "5GK" after "five grandkids."
If you haven't ever checked out dirt track racing, both Bob and Daysen encourage you to bring your own family and come out sometime. "If you like cars and you like excitement, these races are a huge adrenaline rush. It's really cool. A lot of people come to see who wins, and a lot of people like to come see the wrecks," he chuckles. "Dirt track is more accessible then paved track," adds Daysen. "At a dirt track, you're sometimes as close as 60 feet from the cars. You can feel the grandstand vibrating – it gets your blood pumping. If you're into cars at all, you might find you want to get out there and drive one yourself."
Depending on the type of car running the track, spectators can expect to have a different experience. A winged sprint like Daysen's can reach speeds upwards of 80 miles per hour, which is pretty fast on a dirt track. It's lightweight, with a big motor. Drivers "run solo" meaning they aren't helped over a headset by anyone off track. If they need a repair, they have to leave the track and wait to be flagged back in, so timing can get intense. Bob drives what's called a sport mod. It's not quite as fast, but it has more restrictions and a springy suspension requiring savvy driving. Tracks also offer a variety of special events like "run what you brung" and "powderpuff" races to give the fans a taste of track culture. A variety of food and beverage vendors are usually available to make it the perfect night out. Daysen recommends Willamette Speedway as a great, family-friendly venue.
Daysen and Bob also both speak highly of their extended family of sponsorship partners. "Sponsorship is huge," says Daysen, "especially when you're starting from the ground-up. Running and maintaining these cars is a big expense." Bob seconds that. "We're grateful to our sponsors like Carson. Their support helps us get the car out there and stay competitive. It's nice to have all the people that help you along the way."