More than a fuel card, cardlock systems offer convenience, security, and control.

Establishing a cardlock fueling program can help benefit your fleet drivers as well as your back office. Cardlocks programs provide you with real-time fuel management and user-friendly reporting without sacrificing convenient fueling options everywhere your routes take you. Plus, you'll see a stabilization in fuel price, and a decrease in fuel slippage – additional key features that go directly to improving your bottom line.
PRICE – Decrease fuel prices with a cardlock program
Catch irregularities in fuel purchasing through accurate purchase tracking assigned to driver or truck.
Reduce exposure to credit-card fraud and cred-card upcharges through closed-network card purchasing.
Receive available commercial pricing with volume discounts.
Pay for fuel priced off of the Oil Price Information Services current cost, not fluctuating retail fueling prices, assuring the most competitive price at every cardlock facility.
CONVENIENCE – Cardlocks save time to improve your bottom line
Cardlocks are available 24-7, every day, so drivers can fill up where and when they need to.
Designed for large trucks, cardlocks offer drivers high-speed diesel pumps to get your fleet fueled up and back on the road quickly (no waiting in long retail service lines).
SECURITY – Cardlocks reduce and eliminate internal theft and credit card fraud
Know when, where, who and how much fuel is purchased at all times.
Customize your alerts and reporting to keep track of fleet fuel costs.
CONTROL – You decide what parameters govern your fleet's fuel usage with a cardlock system
Accurate and straightforward management and reporting on specific vehicles or drivers through programmable "pins".
Decide what days and hours employees can use cards.
Manage locations, fuel types and gallons per fill – every fill.
Establishing a cardlock program right for your fleet is as simple as a call to Carson's team of cardlock experts.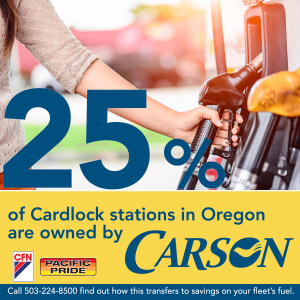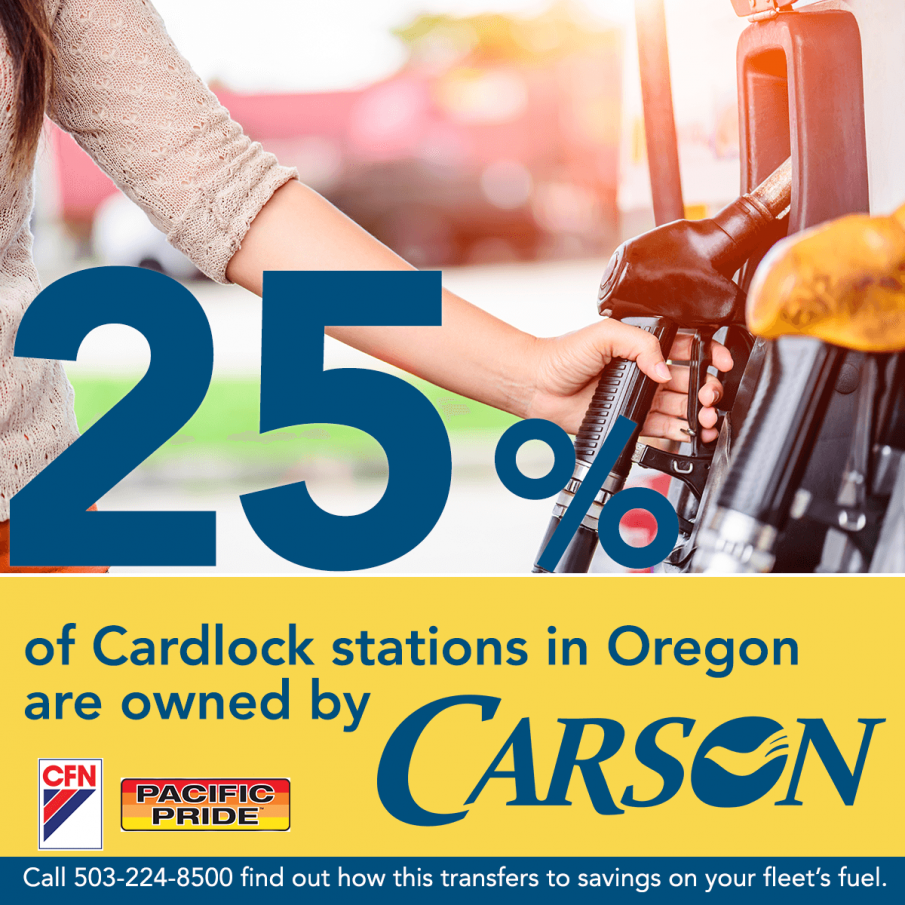 When you partner with Carson for your fueling needs, you'll get the added benefit of a dual provider network of fueling stations under one cardlock program. Carson offers our customers the ease of access to a national network of over 150,000 cardlocks, truck stops, and branded retail stations, including all Pacific Pride and CFN stops. In addition to the automatic reporting and customizing features that come with your cardlock system, Carson's experts in the commercial fueling industry can help you to design the right fuel purchasing agreement for your business.
Contact Carson today at 800.998.7767 to take advantage of Cardlock's unique benefits for your fleet.