Click on the areas where you live for the number to call:
Carson Heating Oil Coverage Map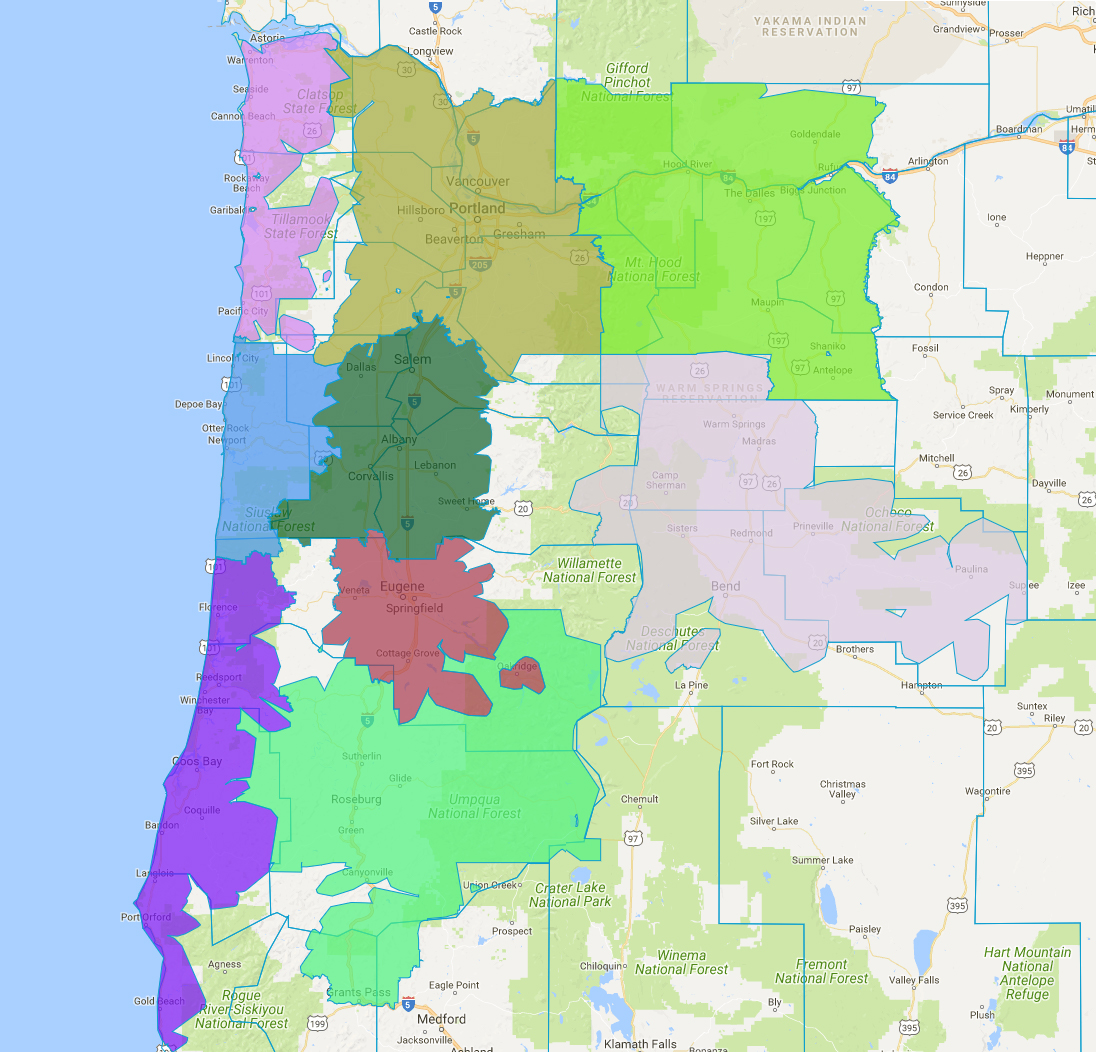 Portland
For heating oil in the Metro and Greater Portland areas, call: 503.224.8500
North Oregon Coast
For heating oil in the Tillamook, Pacific City, Cannon Beach, Seaside Astoria areas, call 503.842.6312
Hood River The Dalles
For heating oil in the Hood River area, call: 541.386.3611
Central Oregon Coast
For heating oil in the Toledo / Newport / Lincoln City area, call: 541.336.2512
Salem Albany
For heating oil in the Salem Albany area, call 541.926.1817
Central Oregon
For heating oil in Central Oregon, call 541.447.6581
Eugene
For heating oil in the Eugene area, call: 15032222516
Sutherlin Roseburg Grant's Pass
For heating oil in the Sutherlin, Roseburg, Grant's Pass areas, call us at 541.673.8155
South Oregon Coast
For heating oil in the Florence, Reedsport, Coos Bay/North Bend and Port Orford areas, call us at 541.756.3426
Whether it's for your home or business, for all your heating oil needs, there's only one name: Carson.  Our coverage areas are expanding to include:
Portland & the Greater Portland Area – 503.224.8500
including: Beaverton, Hillsboro, Gresham, Forest Grove & the surrounding areas
Vancouver & Southwest Washington – 360.254.9173
Albany – 541.926.1817
Eastern Oregon & Western Idaho – 541.889.3128
including: Boise, Nampa, Caldwell & surrounding areas
Central Oregon – 541.447.6581
Eugene & Surrounding Areas – 503.471.4351

Hermiston, Tri-Cities, WA & Surrounding Areas – 541.567.6582
Hood River Area – 541.386.3611
Medford, Grants Pass & Ashland – 541.773.7311
Newport, Toledo, Lincoln City – 541.336.2512
North Bend & Coos Bay – 541.756.3426
Tillamook – 503.842.6312
Sutherlin – 541.673.8155
Heating oil is where we got our start. Making sure families all across Oregon, South Washington and Western Idaho are warm each winter is part of our history and mission since 1938.  Carson's dedicated staff uses radio dispatched delivery and service vehicles, and an advanced computer system to serve our customers. Quality products and services combined with personal concern make Carson the best total home heating value available.
Good Things to Know Going into Winter
A few things to keep in mind so you can order smart:
Most homes will consume 3 – 5 gallons of heating oil per day during the winter (depending on insulation and size of your home).
Over time, sludge can collect in the bottom of a tank. Running yourself out not only means spending time in the cold, it means sucking up sludge that can harm your furnace.
If you don't have a gauge, we sell specialized measuring sticks with a conversion chart no matter what size of your tank.
You can use our handy 10-day weather forecast on the right side of this page to guesstimate what's coming weather-wise over the next week and a half (hint: the colder the weather, the more demand there will be for heating oil around that time.)
Why You Need to Think About Home Heating Oil in Terms of Cost AND Reliability
As part or our commitment to our customers, we're dedicated to offering competitive pricing. But availability isn't always in our control.  When a cold snap hits, demand can go through the roof.  If the weather's bad enough, roads and other infrastructure can be closed or only offer limited access. As a home owner, calling around to get heating oil during an event like this can be very stressful and uncertain.
That's why you should think about our long-term supply contracts, otherwise known as auto-fill.  This is the best way to assure a consistent, uninterrupted supply. Combined with our competitive pricing, auto-fill gives you the optimal blend of cost and peace of mind.
Billing and Delivery Options that Make it Easy for You
Carson offers three convenient billing plans. These plans allow you to choose one that fits your needs. And, with our automatic delivery program you never have to worry about running out of fuel, calling in an order, or being home to receive your delivery.
Carson only uses BioHeat, a blended oil that significantly reduces the emissions that cause global warming, smog, and acid rain. For more information, please call us at 503.224.8500 or click the contact us button below to fill out our contact form and someone will get back to you shortly.