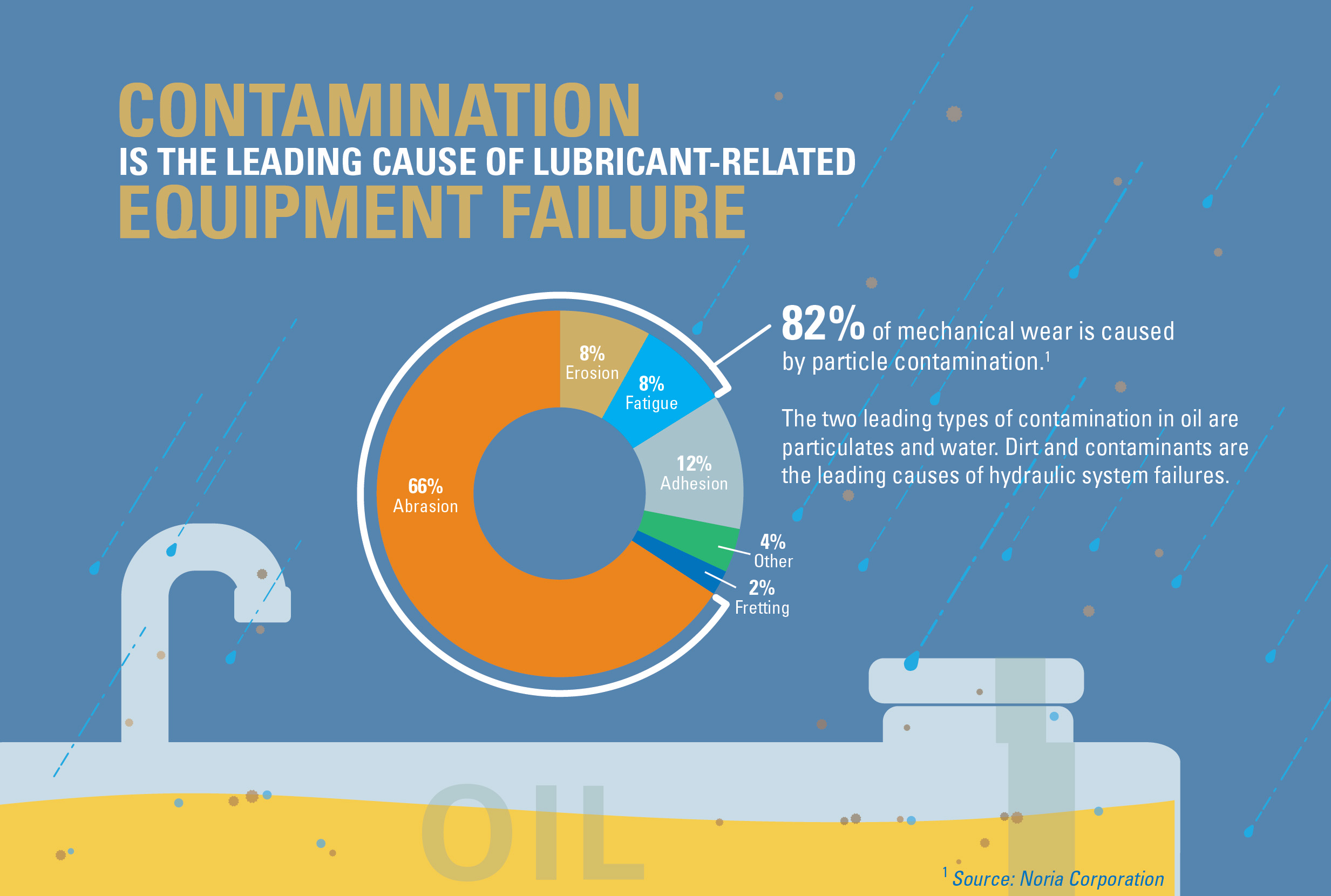 Lubricant contamination, particulates, and machine failure
Machinery today runs at high levels of proficiency and precision. The proper lubrication for tight tolerances is essential to the lifespan and effectiveness of your equipment. Contaminated and dirty lubricants substantially impact performance. Frequently cited studies suggest that 82 percent of machine wear is particle-induced. This wear results in higher maintenance costs and downtime. When mission-critical systems go offline, it has a broad impact on your bottom line.
The Original Equipment Manufacturer (OEM) will specify the necessary cleanliness level for the oil lubricant in your equipment to achieve a target run life. Proper standards of cleanliness (reduction of particulates) are particularly important for:
Rolling element bearings
Journal bearings and turbomachinery
Gearboxes and other systems
Hydraulic systems and diesel engines
Lubricants are also compromised by exposure to moisture, in this case, rolling elements suffer the most wear and tear
How to determine lubricant cleanliness levels, and why it matters
The International Organization for Standardization (ISO) developed a cleanliness code to measure contamination levels per milliliter of fluid. Your OEM will cite the ISO code relevant to your particular equipment.
Your trained maintenance staff, or a third party, can test the current level of cleanliness equated with a series of three ISO Cleanliness Code numbers. The code is then compared to the recommended cleanliness level provided by the OEM on the ISO chart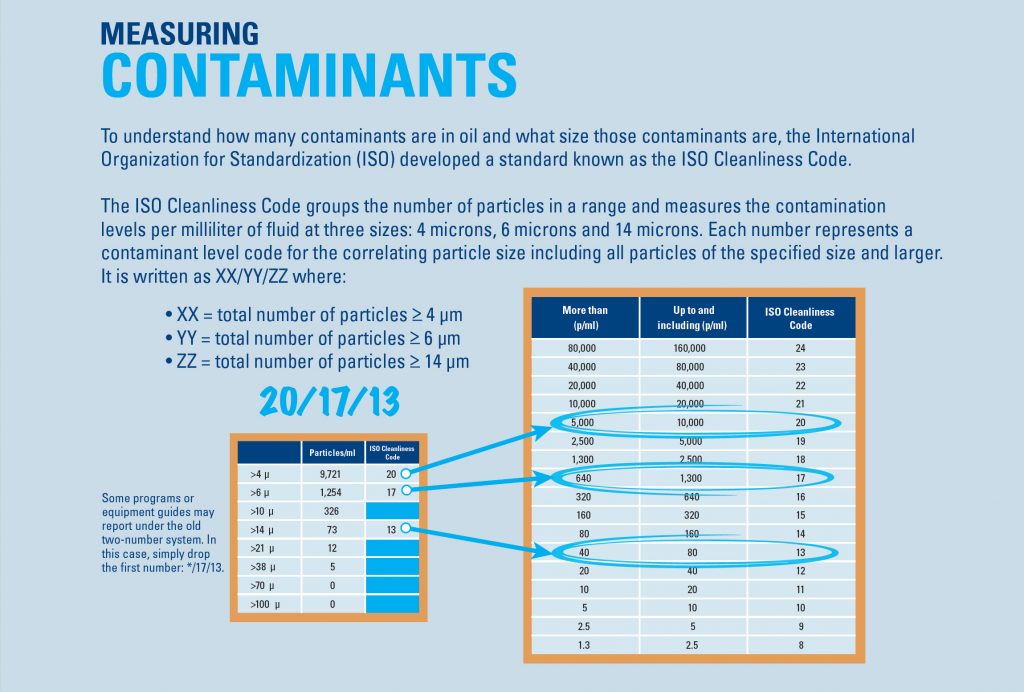 to see an estimate on the increased life extension factor of your equipment and components if moved to the proper rate of cleanliness.
Even a small amount of particulate, say a teaspoon of dirt in 55 gallons of oil could equate to about a billion particles 4 microns and larger. This level would be equal to an ISO Cleanliness Code of 19/17/14.
If the hydraulic system has Servo Valves then that component has the strictest ISO requirement on your equipment, and you should run an oil with an ISO Cleanliness Level of 15/13/11. By removing the teaspoon of dirt, you could double the lifespan of your equipment.
Proper ISO Cleanliness Levels = Real Savings:
Replacing four hydraulic system pumps per year on end dump trailers will cost a sand and gravel hauler $9,600 for parts and oil, labor and lost revenue. Maintaining the proper ISO Cleanliness Code of the hydraulic fluid can double pump life, effectively cutting that cost in half.
How oil and lubricants become contaminated: Offsite
It can be surprising and frustrating to find out that new oil may be delivered already outside of the standard recommendations. It usually does not meet the performance standards and cleanliness requirements recommended by your equipment manufacturer.
Typically new oil could contain up to 32 times more particles than the acceptable level.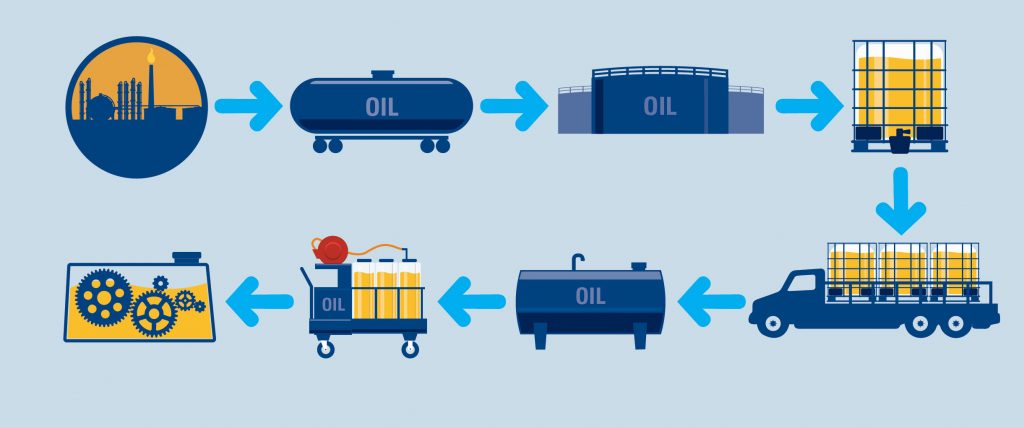 Oil picks up particulates and moisture through up to eight transfers from the refinery to your site and can increase in two to four ISO contamination codes on its journey to you.
How oil and lubricants become contaminated: Onsite
Particles in your lubricant and lubrication deliver system result from:
Abrasion
Erosion
Fatigue
Adhesion
Exposure to air and moisture
Starting with contaminated lubricants in the first place
Unfortunately, the filters on your machinery won't catch particulates before they have a chance to do damage. Then, the machine's bypass system will continue to allow the contaminated fluid through once the filter reaches capacity. Plus, the particles that do the most damage to low tolerance and precision equipment are in the 1 to 10-micron range. These clearance-size particles enter the lubrication zone between machine parts and generate wear. Many onsite filtration systems are not adequately balanced or sized to remove these tiny particles.
Filtering the oil you receive at your facility is also time-consuming, costly and not necessarily sufficient for a variety of reasons.
High initial capital investment in purchasing, installing and training staff to operate filtration equipment
Increase in human resources or over-burden maintenance staff with filtration duties
Technical training and on-staff expertise required to properly monitor, test and filter oil to meet the exacting technical and ISO standards for different lubricants and different equipment to not cause additional damage
Incorrect equipment, installation, and maintenance of filtration systems run without monitoring or measuring results and rarely meet filtration targets
Start Clean: CHEVRON ISOCLEAN CERTIFIED LUBRICANTS from Carson
It can cost you ten times more money to remove these virtually invisible contaminants from fluids and lubricants than to keep them out in the first place.
Every delivery of ISOCLEAN Certified Lubricants from Carson is certified to meet your equipment manufacturers' cleanliness and performance specifications including an ISOCLEAN Certificate of Analysis documenting the ISO 4406 cleanliness level. This uncompromising process that verifies the lubricant you are receiving meets requirements to maximize equipment life.
Stay Clean: CHEVRON ISOCLEAN Services from Carson
Our experts will work with you to develop a program of lubricant monitoring and maintenance best practices customized to your operation. Our initial site assessment will review your current methods for lubrication, product storage and handling, and your OEM equipment requirements. A lab analysis of existing oil and fluids is processed at Shoco Labs through their state-of-the-art laser particle counting service.
These review services include:
Analysis of the existing oil from drum or tank
Analysis of the working oil from the equipment
Review of current practices for lubrication, product storage, and handling
Application of Chevron's LubeWatch program to determine the cause of contamination, including storage, filtration systems, aeration practices, and handling practices.
The findings of your site review will determine contamination mitigation services including:
Fluid purification and dehydration
Varnish removal and mitigation
High-velocity flushing
Reservoir and tank cleaning
Fluid handling consultation
New, ISO-balanced lubricant is delivered in a clean, sealed tote. You can use the lubrication directly from the tote on a permanent basis, or temporary to allow system flushing of your current fluid system.
Once you have Chevron ISOCLEAN Certified Lubricants in your system, the next step is to ensure your equipment is protected while in production. The Chevron LubeWatch program can be added to our regular Shoco Lab testing to monitor the condition of your oil and provide insight into wear trends. When contamination levels exceed condemning limits, corrective actions are applied to keep your in-service lubricants meeting your OEM specifications.
The Chevron ISOCLEAN Services offered by Carson can be additionally supplemented with education and training on best practices to realize program value.
If you're ready to see significant improvement in your equipment productivity and longevity, contact Bryan, our Carson ISOCLEAN expert at 503.471.4309 to schedule an analysis of your existing fluid handling practices and storage.
Calculate your ISO Cleanliness Code with the ISOCLEAN® Cleanliness Calculator
ISOCLEAN® CERTIFIED LUBRICANTS from Carson
– Meet OEM cleanliness requirements
– Increase component and equipment life
– Optimize oil life and reduce disposal costs
– Improve reliability and increase uptime
– Reduce the need for onsite pre-filtering
– Eliminate the risk of over-filtering lubricants
– Comply with OEM warranties
– Improve safety
– Reduce maintenance time and costs
– Minimize filtration capital investments