With fuel prices the way they are, it is no surprise that reports of fuel theft have risen across our nation. While thefts from retail fuel stations are what we often see in the news, cardlocks and their customers are also experiencing increased attention from fuel thieves. How concerning is fuel crime and what can cardlock users do to prevent being the victim of fuel theft?
HOW BIG AN ISSUE IS FUEL THEFT?
Headlines are full of large-scale fuel thefts committed by organized crime. Sophisticated criminal groups tap pipelines, drill or siphon fuel from vehicles, or collect payment data using camouflaged skimmers. That data is then used to purchase as much fuel as possible, often in vehicles modified to hide "bladder tanks" that can hold hundreds of gallons. The stolen fuel is then resold on the black market.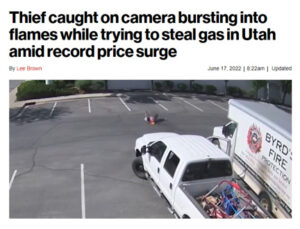 While conservative estimates put the global impact of fuel theft at around $133 billion per year, there are no definitive statistics available for the US. Yet we know that the numbers are staggering. For example, in March 2022, thieves used a remote to directly access underground pumps at a gas station in Aurora, Colorado, stealing about $50,000 worth of fuel in a single incident. Fuel theft occurs in every state across the US and impacts the entire fuel chain, from manufacturer to distributor, to fuel station owner, to the individual filling up their tank.
FOR MOST BUSINESSES, FUEL THEFT OCCURS CLOSER TO HOME
Large-scale organized fuel theft like that in Aurora is devastating for the victims. However, there is another, less publicized type of fuel theft and, at least from the experiences of our customers, it's a more common occurrence for general businesses. That is theft by employees. Incidents of internal theft is when an employee fills up their personal vehicle using a company gas card. They might also put personal charges, such as cigarettes or concessions on the card. This type of fuel theft is called "slippage".
Small transactions add over time. In March, Connecticut USPS driver Lindim Asipi plead guilty to stealing postal funds. Over an 18 month period between January 2020 and June 2021, he inappropriately used his fleet fuel card hundreds of times, totalling $40,000 to $95,000. The USPS overlooked a powerful tool that could have limited, if not stopped Lindim Asipi entirely: cardlock settings.
Your cardlock settings can prevent and reduce the impacts of both employee fuel slippage and organized fuel theft.  As a Carson cardlock customer, we will help you review and adjust settings to protect your business.
CARDLOCK SETTINGS PROTECT YOUR BUSINESS
Cardlock settings are your fail-safe should you become the target of fuel theft – whether it's committed by a disgruntled employee or organized criminals. Businesses with poor cardlock account settings can be paying 15% more in overall fuel costs, as reported by the National Association of Fleet Administrators.
Nearly every aspect of a fuel purchase has some sort of control setting on your CFN or Pacific Pride account. You establish the settings for your cards and users.  For busy managers, it's easiest to keep all options open for that 'just in case' scenario. However, this is exactly what makes your business an easy target for fuel thieves and unscrupulous employees. A carefully protected account requires a thorough understanding of your business' fuel use, your fleet and your staff.
In the case that a card is stolen or misused, account settings will reduce the damage caused to your business. They are also a requirement of Fleetwide's built-in Fraud Protection Program, which is offered by both CFN and Pacific Pride networks.
Are your cardlock settings optimized to protect your business? Let's review them together! Reach out to your assigned Carson representative or call our Cardlock Department at 800.998.7767, ext. 1013. 
---
WHAT CAN BE CONTROLLED ON A CARDLOCK CARD?
ACCOUNT SET UP
There are essentially two ways to set up the master cardlock account. Floating cards can be attached to a vehicle and shared amongst all drivers of that vehicle. Alternatively, each employee can be assigned their own unique card, aptly named single-card account. The selected base account style will influence which specific settings can be applied to the cards.
WHO
Control access to your fuel cards with personal pins for each driver. That way drivers can be individually turned on and off without impacting fuel access for the rest of your team.
WHERE
Pacific Pride allows you to control which zip codes a card can be used at. CFN allows you to limit purchases to specific states. For either provider, you can limit purchases to only cardlock stations or prohibit purchases on the Extended Network*, participating retail stations that accept cardlock cards.
WHEN
Does your business have limited hours of operation, say 8-5, Monday to Friday? Then there's no reason to permit fuel purchases outside standard business hours.
WHAT
Is it a diesel truck? Turn off gas. Visa versa, turn off diesel for an employee that drives a gas-powered vehicle.

HOW MUCH


Limit fuel purchases to the size of the fuel tank of the vehicle assigned to the card or driven by your employee. A thief cannot purchase 600 gallons if your limit is set to 25.
HOW OFTEN
How many times a day does a vehicle need to fill up? Decline anything beyond that.
* Opening cards to the Extended Network not only gives your team access to participating retail stations, it allows them to purchase lubricants, DEF and similar products sold at these stations. At this time, however, neither Pacific Pride nor CFN systems have the ability to control what types of products can be purchased from participating retail stations. We encourage you to request e-receipts be turned on and carefully review all purchases if allowing Extended Network purchases.
YOU MAY ALSO LIKE