When you think of winter activities in Oregon, strapping your feet to a board and careening down a steep mountainside might be the first thing that comes to mind. But there are more things to do than skiing in Oregon's pristine backcountry. Oregon has almost 100 snow parks or Sno-Parks like we call them here. Sno-Parks offer a mix of snow-related recreational activities, most with groomed trails. Many with other amenities like warming-huts and guided tours.
Most of Oregon's Sno-Parks are on US Forest Service lands and are maintained by multiple volunteer organizations dedicated to winter sports. Depending on the park, groomed trails and features are available for cross-country skiing, sledding, snowmobiling, and even dogsledding. The Oregon State Snowmobile Association, a coalition of the state's local clubs, oversees a network of 6,000 miles of groomed trails, which are maintained by member clubs. Groups like the Meissner Nordic and Central Oregon Nordic Clubs organize a volunteer community for trail-grooming state and federal trails, running backcountry tours, and maintaining warming huts throughout Oregon's most scenic areas.
Cross-country skiing
Cross-country skiing, or "Nordic skiing", is a popular alternative to downhill skiing that offers enthusiasts access to Oregon's beautiful natural landscapes all winter long, usually with no associated fees beyond a Sno-Park parking permit. A simple online search for "Oregon Cross Country Skiing" will net you ample resources to plan your trip or take advantage of many guided adventures.
Snowmobiling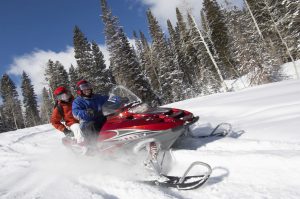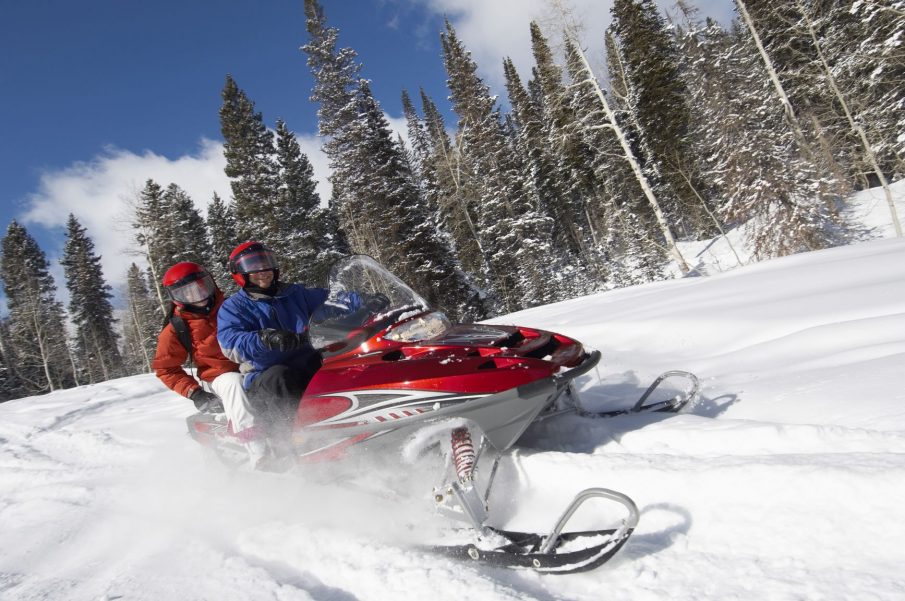 Oregon and the Pacific Northwest are world-renowned destination areas for snowmobiling enthusiasts. The Oregon State Snowmobile Association is a vocal advocate for protecting trail systems with a "leave no trace" approach to sharing the backcountry with other winter sports enthusiasts. Their 25 member clubs maintain a network of 6,410 miles of multi-use snowmobile trails, and Snowmobile clubs work closely with the Forest Service to be good stewards of Oregon's wild areas. If you haven't tried snowmobiling before, the OSSA recommends you start with a guided tour that provides equipment and safety training. Search for "snowmobile tours in Oregon."
If you're an experienced snowmobiler, the OSSA has maps available of trails on Forest Service land. Just remember, some parking, like for Sno-Parks, may require a parking permit. Make sure you do your due-diligence on equipment safety. Carson provides a superior line from Chevron to keep your ride running smoothly.
Sledding
Is there anything more fun for kids than zipping down the perfect sledding hill? Is there anything better for parents, then tiring out kids by making them trudge their sleds back up a hill 100 times? With a little planning, numerous sledding opportunities won't break the bank beyond a parking pass. Check out the White River Sno-Park, Little John Sno-Park, and Trillium Lake, for easy, fun, and free sledding. Don't forget to bring your own inner tubes and plastic discs/sleds. Some Sno-Parks do not allow metal, wood, and blade-style sleds. White River Sno-Park has vault toilets, and Trillium Lake has a warming shelter, but plan on primitive if any, amenities.
Dog sledding
Yup, dog sledding is a thing in Oregon. Even if you're not ready to compete in the Iditarod, you can get a tour from a former Iditarod champion at Mt. Bachelor with Oregon Trail of Dreams. Or watch the Eagle Cap Extreme Sled Dog Race from some scenic snow-topped view points.
Know before you go
Sno-Park permits are required in designated Sno-Parks from November 1 – April 30.
Always check weather and road conditions, first. Don't drive down Forest Service roads that are not properly groomed. Check the Oregon 24 hour snow report by calling 511.
---
You May Also Be Interested In
8 Places to Get Your Snow On
in Oregon
Mt Hood
7 places to sled
18 places to cross-country ski
6 places to snowmobile
Santiam Pass
2 places to sled
9 places to cross-country ski
5 places to snowmobile
1 place to dogsled
Willamette Pass
4 places to cross-country ski
3 places to snowmobile
1 places to dogsled
Crater & Diamond Lakes
3 places to sled
10 places to cross-country ski
7 places to snowmobile
2 places to dogsled
Southeast Oregon
3 places to cross-country ski
2 places to snowmobile
Lake of the Woods
& Siskiyou Summit
1 place to sled
12 places to cross-country ski
10 places to snowmobile
3 places to dogsled
Central Oregon
2 places to sled
11 places to cross-country ski
9 places to snowmobile
4 places to dogsled
Northeast Oregon
6 places to sled
13 places to cross-country ski
19 places to snowmobile
1 place to dogsled